Start Learning With Us Now
We are proud to offer Certified Film & Video Editing Course in Chennai to achieve your Personal & Professional Goals. "We Educate you Innovate."
What we do
Our

Highlights
What we do
Our

Highlights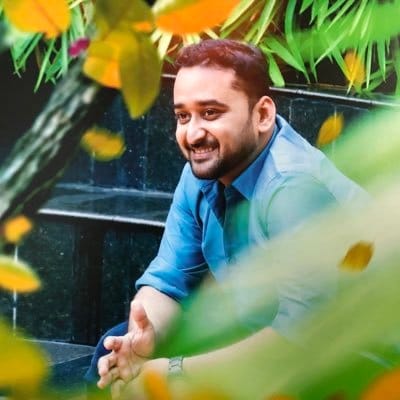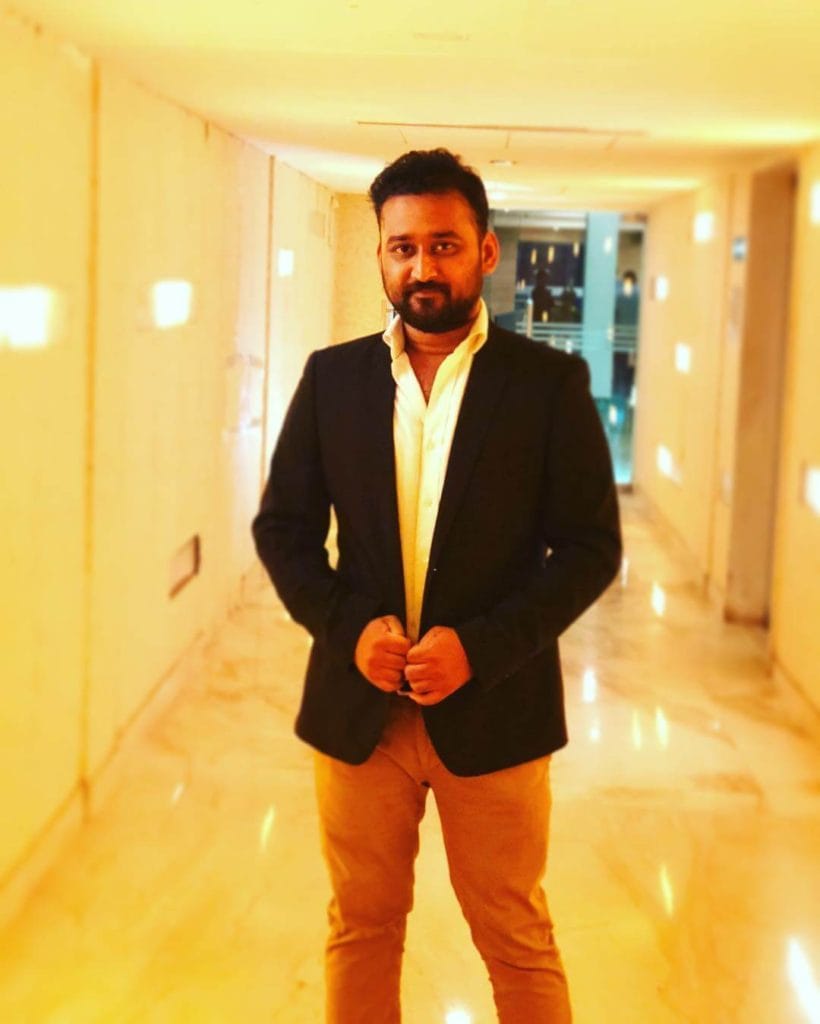 Founder of Matchframe Editing School
I love sharing my career experience as an editor. I started my journey as a promo editor in Seven crest Communication. My second gig was editing a trailer for Arun Vijay's movie, Malai. That got me the opportunity to edit a song called "Poove Poove" from Siddu Plus 2 Movie. Later, I started getting trailer editing projects for movies like Payanam, Singam puli, Dhoni, Unsamayalarail, Uppu Karuvadu, Station (Hindi), Sivalinga, Maragatha Naanayam, Sathya. I also worked on promo editing for Kaala, Vada Chennai & many more Tamil & Kannada movies.
What Are The Goals Of Video Editing?
Success Stories of our editing course in chennai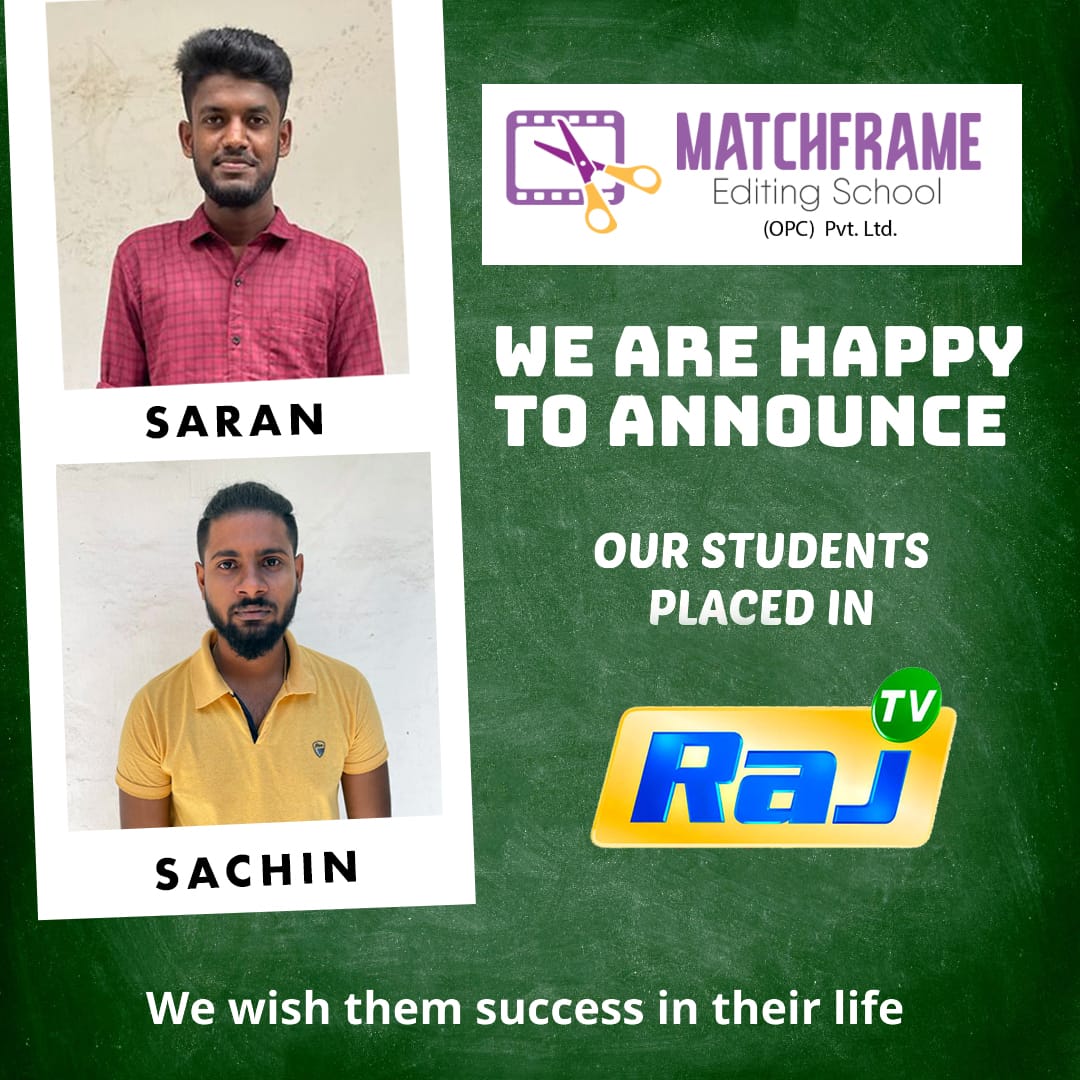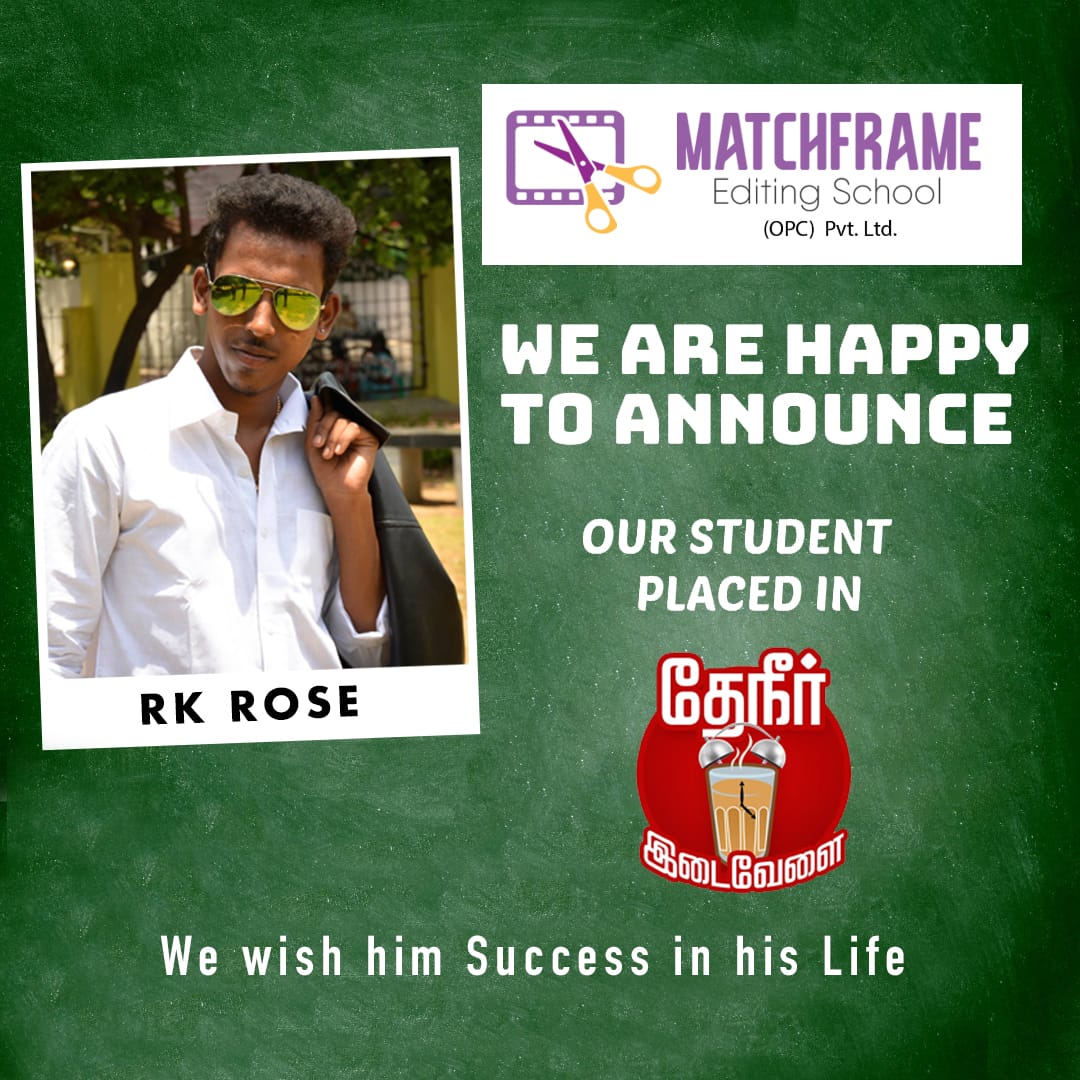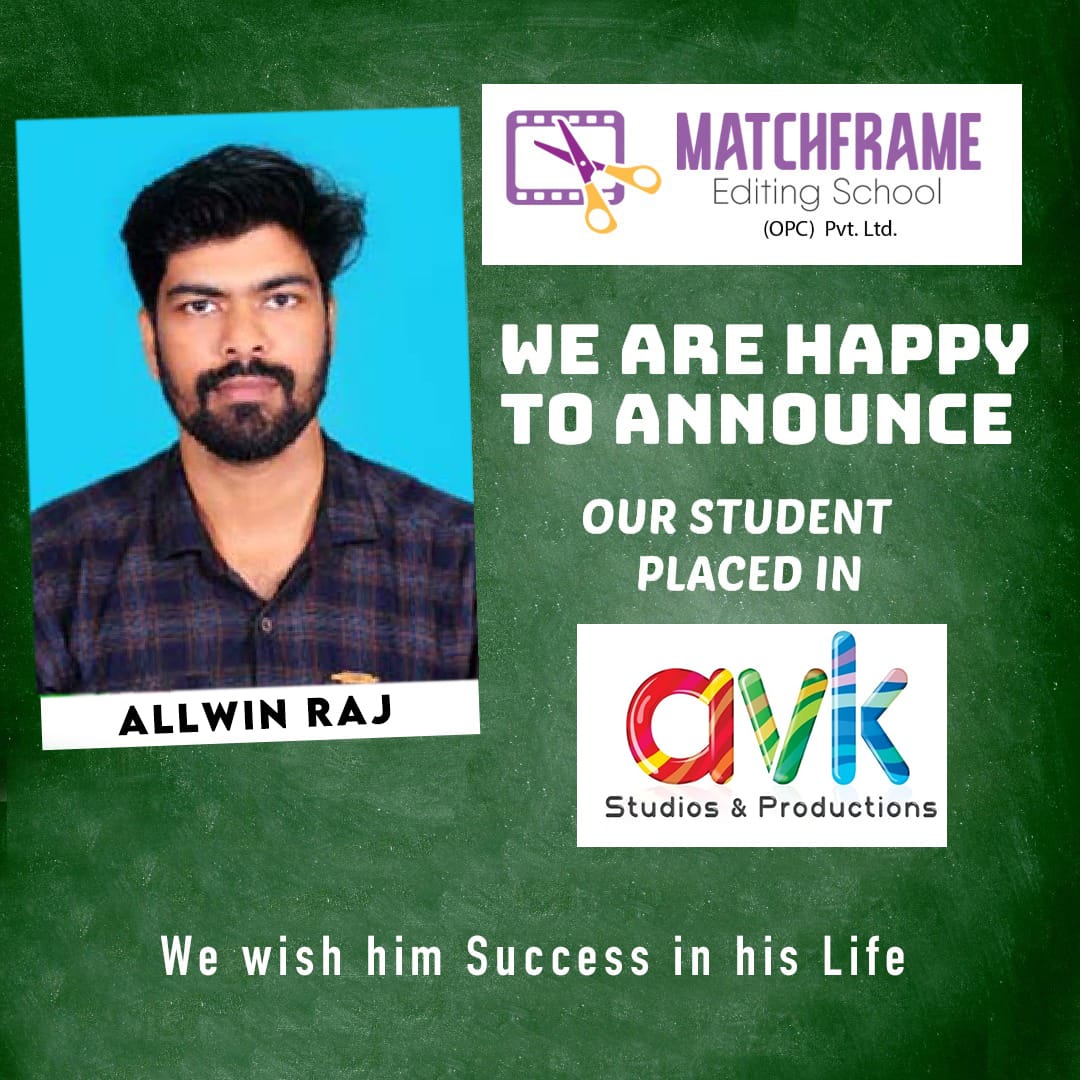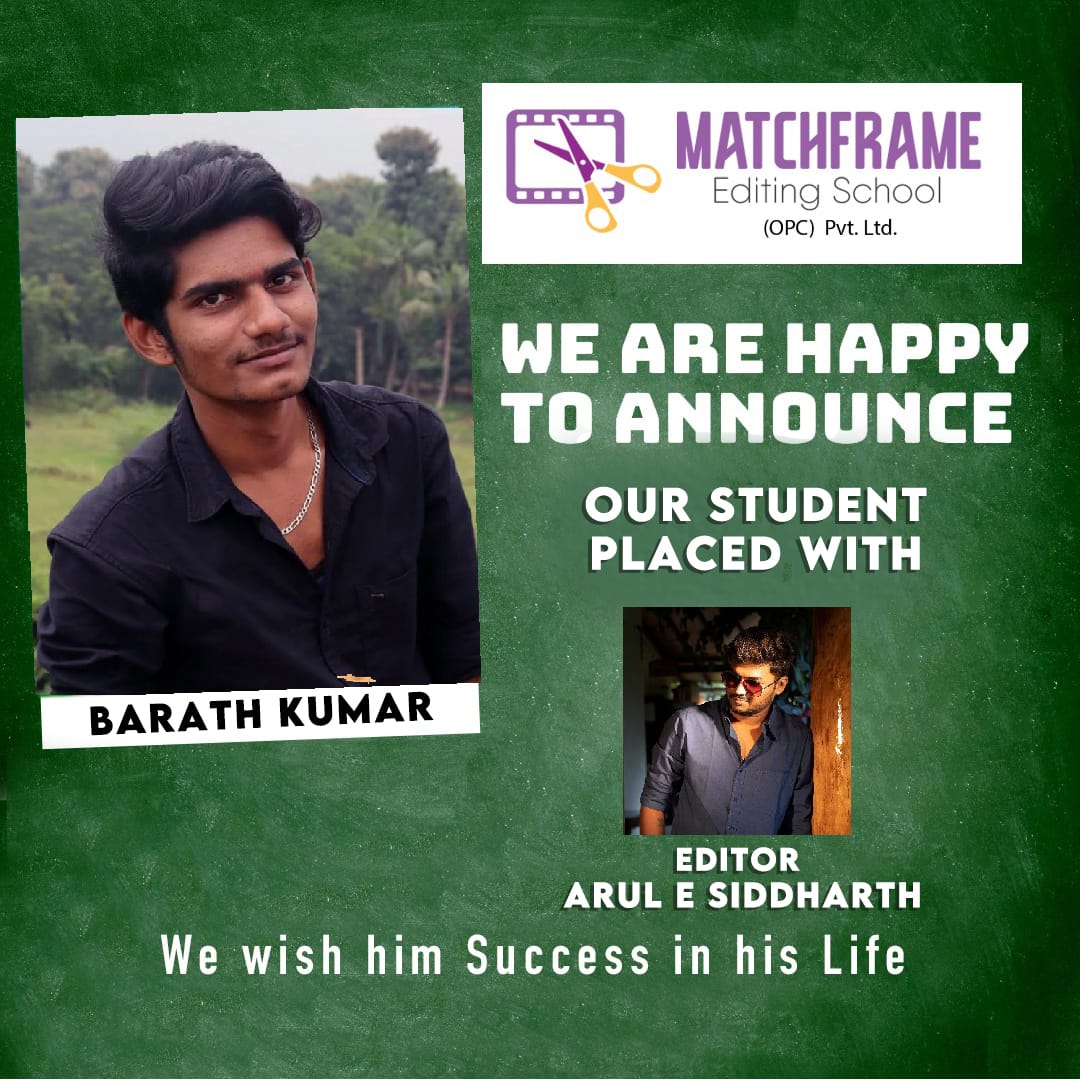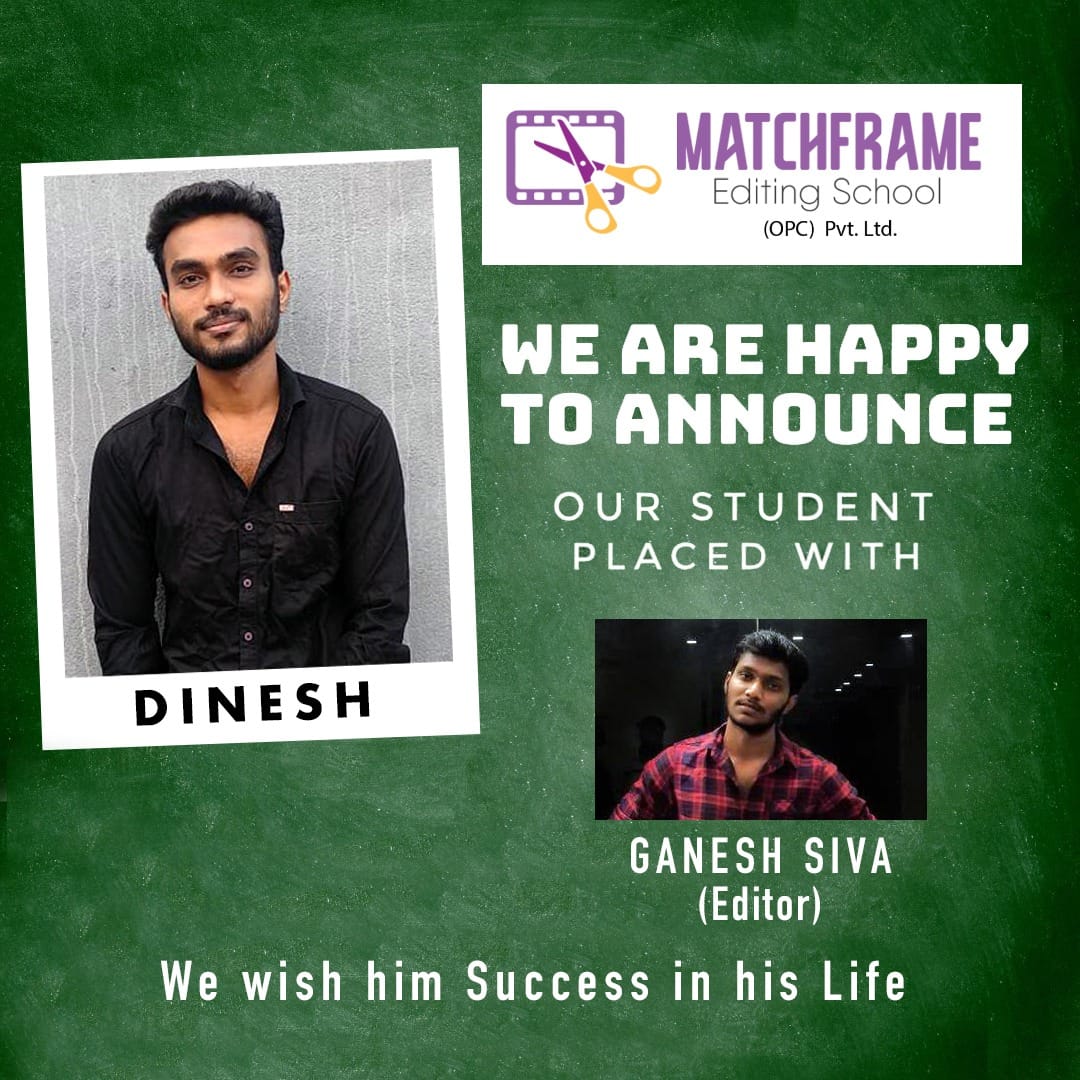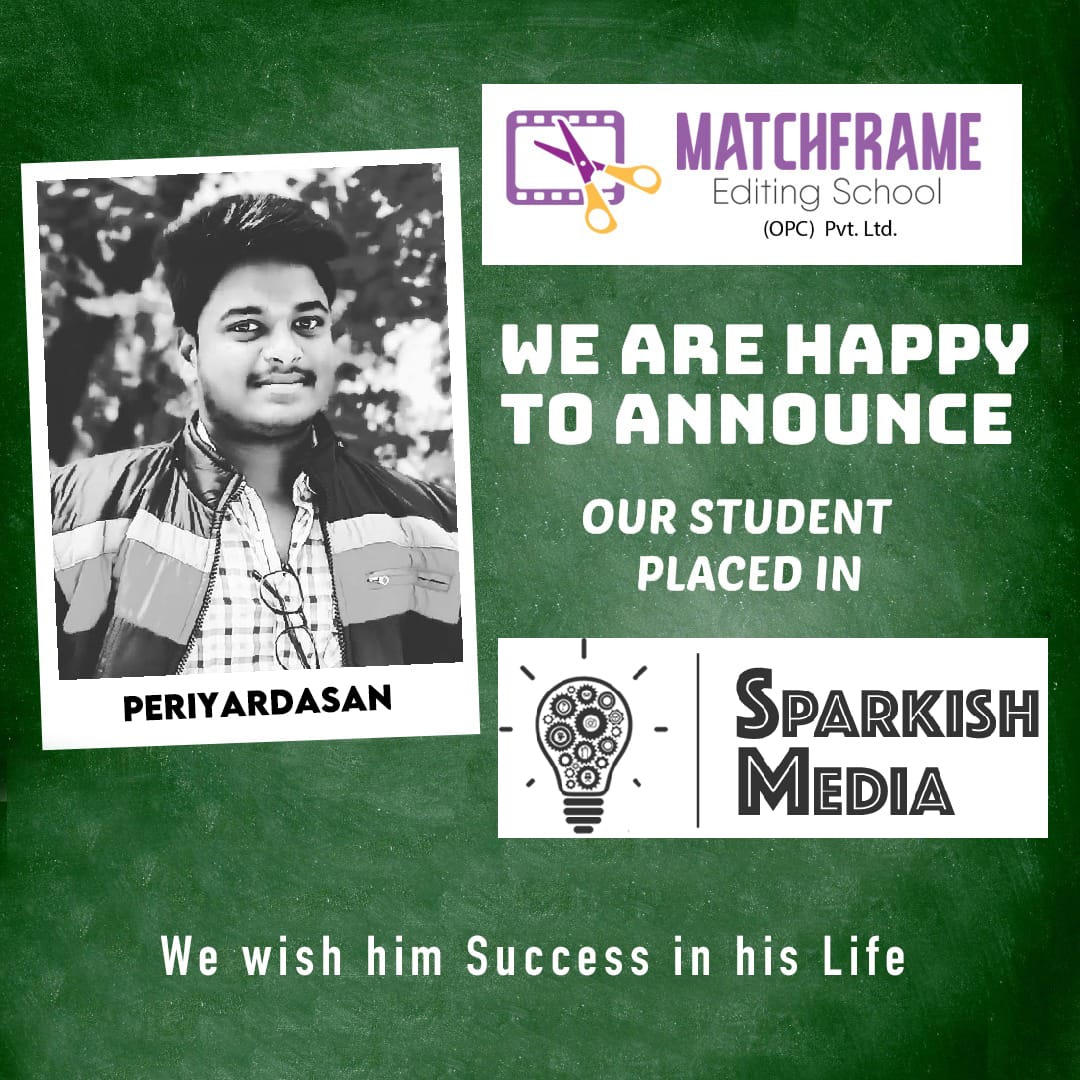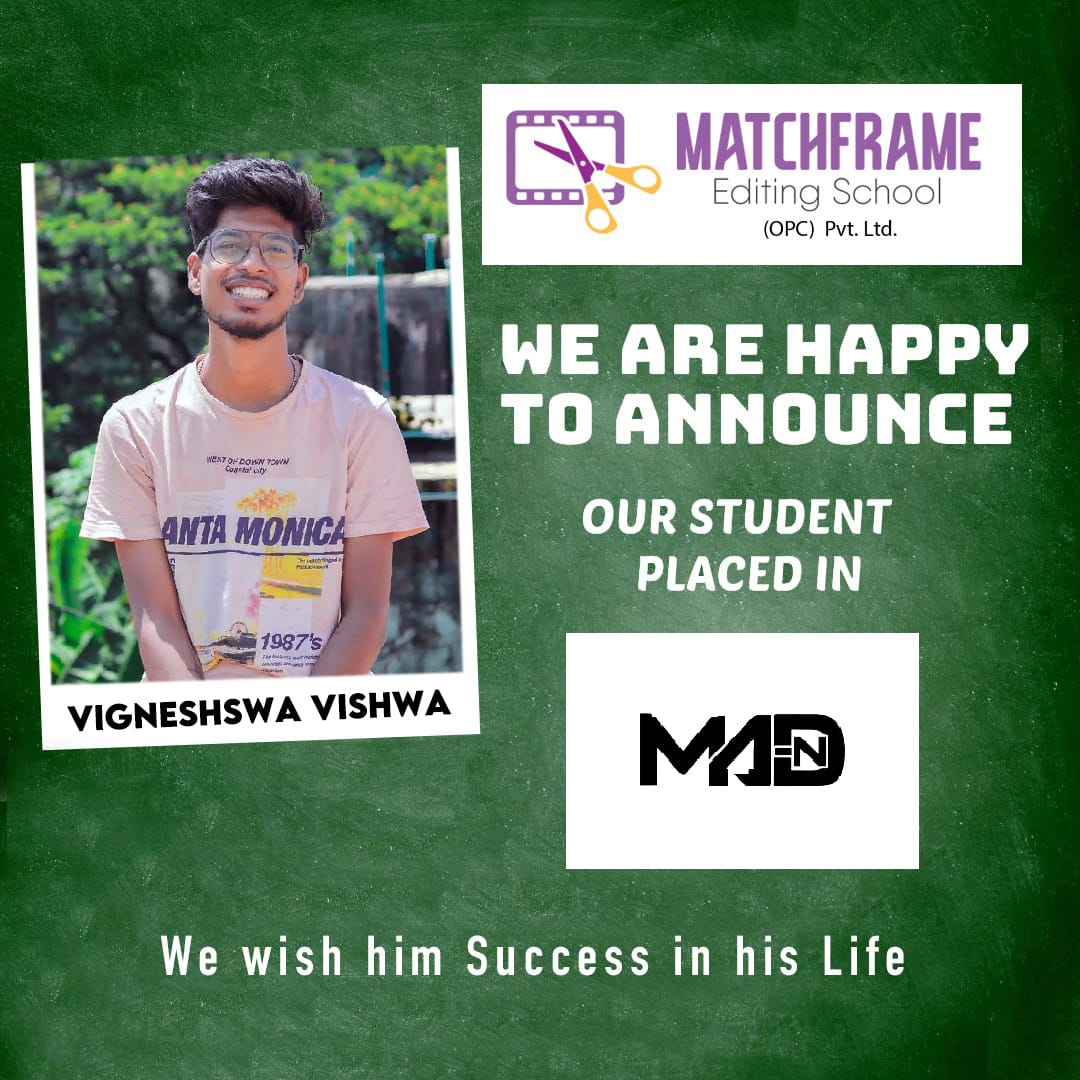 Keep in touch with the trends
Popular EDITING Course in chennai
Video editing software application or non-linear editing system where you create inspired stories through editing from first cut to the final finishing with enhanced tools and techniques.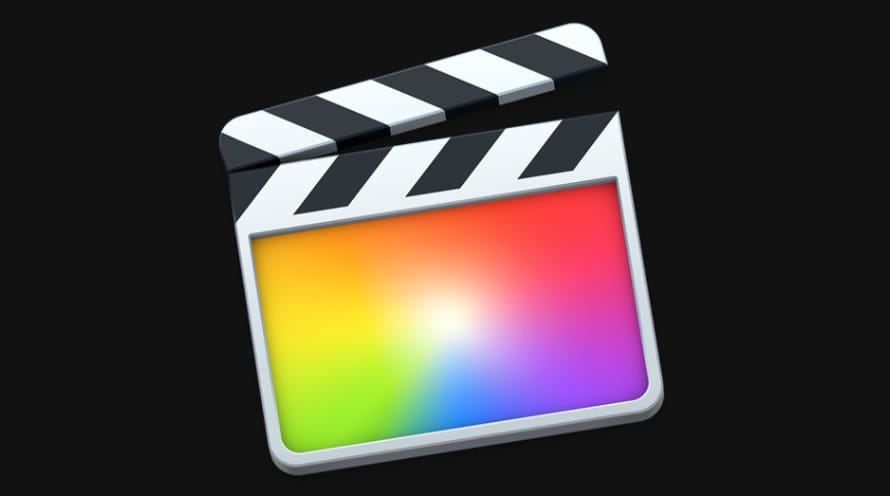 Apple's professional-level, non-linear, non-destructive video editing software where it combines high-performance digital editing and native support for virtually any video format with easy-to-use and time-saving features that let you focus on storytelling.
Color Grading or DI is a process through which the colors of the film are enhanced to give it a rich and more aesthetically appropriate look. Digital Intermediate (DI) is a filmmaking post-production process
Our trainers are highly professional and well-experienced in the media industry. With their incomparable experience and knowledge, they teach you all the necessary editing skills like editing theory, special effects, synchronization, transitions and so on.
Finished my Editing course at TamilNadu film institute Chennai, 2002 and then started working in Doordharsan in the year 2003, and later joined sun network till 2008, I earned more experience in Video Editing and Television Production.
Then I got the opportunity to enter Digital intermediate studios as a smoke artist worked in more than 600 plus movies in various languages like Paiya, Ayan, Aram, Remo, Ratchasan, 96, Viswasam, and many more films.
I started teaching FCP year 2016 in MatchFrame Editing School as a faculty. The founder of  MatchFrame Editing School Mr. Madan and I got interested in teaching students and this made me work in Education Industry.
B. Sc Viscom Graduate. Currently Pursuing MBA in Digital Marketing & E-commerce.
I'm the Alumni of MatchFrame Editing School; I've completed my video editing course in 2016.

Then started working under Madan sir as Internship editor, after completing intern I've joined as assistant to him since 2016, I've assisted many of his projects, worked nearly 40 plus projects like Boxer, Maragatha Nanayam, Athagapatathu Mahajanangalay, Vadachennai, Kaala and many more as an assistant promo editor. From the above details I've gained more experience in Film & Video Editing.

I started teaching Avid Media Composer from 2017 in MatchFrame Editing School as a software trainee. I've trained 30 plus students.
Enthusastic video editor eager to contribute to the team success.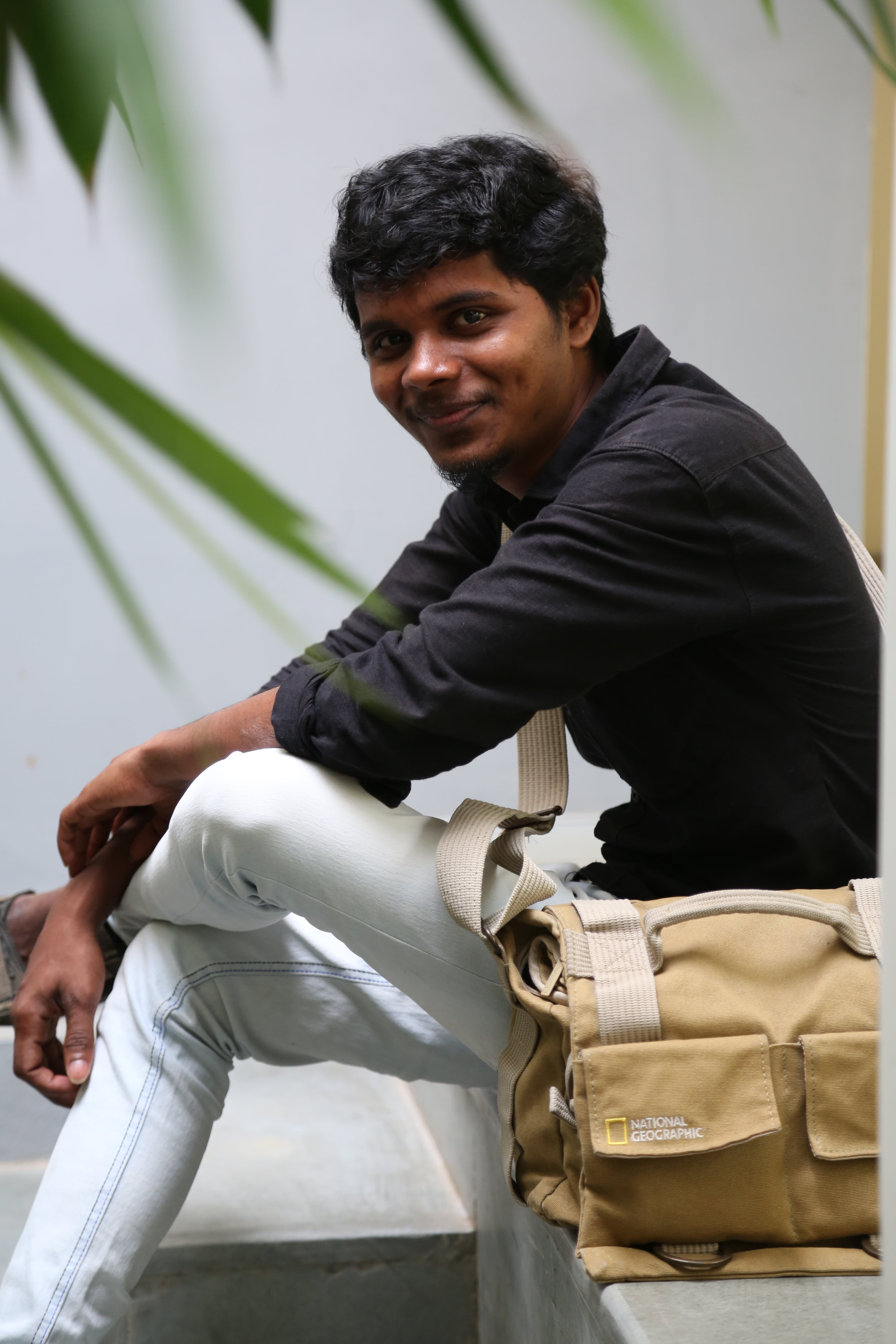 Faculty
AVID | FCP | DAVINCI RESOLVE
Worked as Graphic Designer in DCTed Company. I've completed Diploma in Film & Video Editing course at MatchFrame Editing School 2018. After completion I've joined as Assistant to Madan Sir & worked in his projects which I've mentioned it below.

Projects: Boxer, Lift, Kaadhalum Naanum, Karoline Kamakshi, Sivudu, Sandakkari, kutram kutrame, tailrockers, naanum single thaan, Oh My Kadavule, Radio Mirchi, Lyca Kovai Kings – Official Anthem (2021) and more.

I started teaching Softwares from 2018 in MatchFrame Editing School as a Software Trainee. I've trained 30 plus students. From all above the experience providing a better future for the students and myself.
Find The Right EDITING Course IN CHENNAI For Your Future
Editing is a key skill in video production that can make or break the overall quality of a video. However, editing is a relatively simple process to understand. Once you have learned the basics you'll be able to use your new skills to significantly raise the quality of your videos.
Extending values beyond the classroom by making sure skills, We help students for creating the resume and sharing some interview tips. Conduct a mock up interview and schedule the interviews in various aspects of industry based on student's area of interest and talent.
There is no age limit to learn our editing course in Chennai.